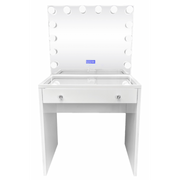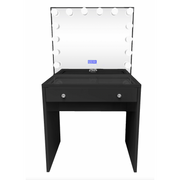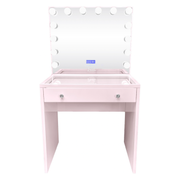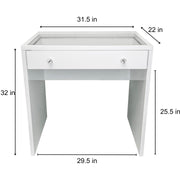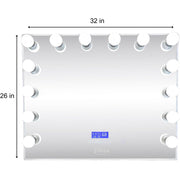 Gem Vanity Set
Our smallest and most adorable Vanity it's designed to be a great option for reduced beauty areas, only measuring 32" wide. Glass top feature allows you to be able to see through into your make up items for an easy to reach access. Do not be discouraged for having limited space to place your vanity, Gem is what you need and more! Gem Vanity's incredibly resistant tempered glass top provides an extra protection against scratches and stains. All over High-gloss coated surface added for a shinier and sleek look while allowing for an easier wipe-off process. Gem Vanity comes with one extensive and roomy single drawer to store your most prominent and valuable make up items, not to mention, the absolute touch of glamour the two crystal knobs bring to its single large drawer. Very Sturdy and selective high quality materials, striving to keep your vanity looking beautiful for many years.
Real Life Pictures
Measurements
| | | | |
| --- | --- | --- | --- |
| Measurement | Length  | Depth | Height |
| Table Dimension | 32 in | 22 in | 32 in |
| Mirror Dimension | 32 in | 3.5 in | 26 in |
| Inside Drawer Dimension | Length | Depth | Height |
| Top Drawer | 13.5 in | 15 in | 3 in |
Real Life Pictures
Mirror Features
Get the illumination you deserve for each and every make up look with our High Quality and innovative Pearls Vanity Mirrors. Mirror includes LED, cool light and 100% replaceable screw-in light bulbs (we don't do stick on bulbs around here 🙅‍♀️) two outlets, two USB outlets and the option to adjust the brightness directly from your mirror with our innovational touch dimming sensor, located in the lower center of your mirror. In addition to all of those features the Bluetooth mirrors include two impressively loud built in speakers located in each side of your mirror, and a bluetooth screen.  Bluetooth screen allows you to switch from next or previous playing song, adjusting brightness, volume control, and it keeps you up to date displaying the time, date and temperature. You can have a blast playing your favorite songs while getting ready to slay all day!
Your Pearls Vanity mirror can be mounted directly to your Pearls Vanity table as a set without the need of a mirror base.
 Real Life Pictures