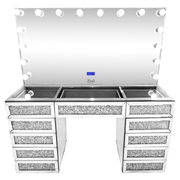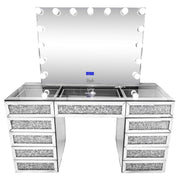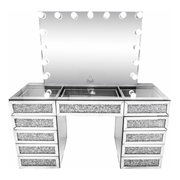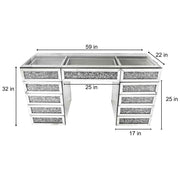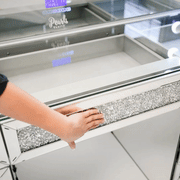 Icy Vanity Set
Icy Vanity has an extraordinary style designed specifically for all my ladies who love to stand out from the rest! Icy features 11 gleaming push to open drawers, eliminating the need for a drawer knob. Its main feature includes a unique crushed diamond design for all its drawer fronts, in addition to this stunning and unique peculiarity, this vanity table includes an exquisite and fine ALL mirrored structure with beautiful mirrored designs for both sides of the vanity. Store all your make up collection while exhibiting this gorgeous piece. Certainly not your average Vanity! Icy's interior drawers including the inside and back section are beautifully coated with a metallic sparkly silver paint. Edge to edge glass top feature allows you to see through into your favorite items, inspiring you to accommodate them into your very own displayable preference. This fun and creative feature will motivate you to look your best each day by how easy it is to access your most frequently used items. Icy Vanity's incredibly resistant tempered glass top provides an extra protection against scratches and stains.  Very Sturdy and selective high quality materials, striving to keep your vanity looking beautiful for many years.
| | |
| --- | --- |
| | |
|  Table Measurements: | Width 59"      Depth 22"      Height 32" |
Get the illumination you deserve for each and every make up look with our High Quality and innovative Pearls Vanity Mirrors. Mirror includes LED, cool light and 100% replaceable screw-in light bulbs (we don't do stick on bulbs around here 🙅‍♀️) two outlets, two USB outlets and the option to adjust the brightness directly from your mirror with our innovational touch dimming sensor, located in the lower center of your mirror. In addition to all of those features the Bluetooth mirrors include two impressively loud built in speakers located in each side of your mirror, and a bluetooth screen.  Bluetooth screen allows you to switch from next or previous playing song, adjusting brightness, volume control, and it keeps you up to date displaying the time, date and temperature. You can have a blast playing your favorite songs while getting ready to slay all day!
Your Pearls Vanity mirror can be mounted directly to your Pearls Vanity table as a set without the need of a mirror base.
Choose your favorite style of mirror to accomplish your perfect vanity dream <3
Mirror Details
Depending on your preferences, you can choose a frameless mirror, a large or regular mirror, and a mirror with or without Bluetooth capability.
Here's a table that will help you identify the mirror by its model name.



Models that are frameless include:




Glare/ Glare Bluetooth 


 


GlareXL Bluetooth 

Width   43"
Depth   3.5"
Height  32" 

Width   59"
Depth   3.5"
Height  32" 
Real Life Pictures