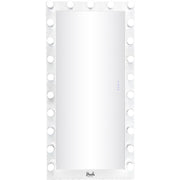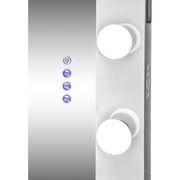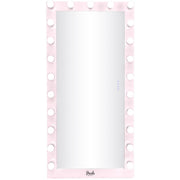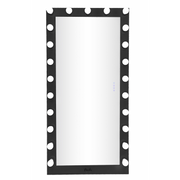 Luminosity Full Body Mirror
Luminosity full body mirror is the perfect complement for any beauty room! 
Feel at your best when you peek into your gorgeous reflection from head to toe! The
 high gloss and smooth all around frame provides an elegant and classic design that will have you showing off on all your mirrored selfies. 

Get the illumination you deserve for each and every OOTD/N with our High Quality and innovative Pearls Vanity full body mirror. Mirror includes 23 LED, cool light and 100% replaceable screw-in light bulbs (we don't do stick on bulbs around here 🙅‍♀️) two outlets, two USB outlets and the option to adjust the brightness directly from your mirror with our innovational touch dimming sensor. In addition to all of those features if you choose to upgrade to a Bluetooth mirror it will include two impressively loud built in speakers located at each side of your mirror. Bluetooth buttons allow you to switch from next or previous playing song, adjusting brightness and volume control.
You can have a blast playing your favorite songs while getting ready to slay all day!
Very Sturdy and selective high quality materials, striving to keep your vanity mirror looking beautiful for many years. Mirror includes brackets as well as the hardware needed to secure your mirror to the wall at the perfect angle and to prevent from slipping. 
Disclaimer: Different wall materials require different types of mounting. Please use the right hardware for your walls. If in doubt, please contact a local hardware store for help.
Luminosity is also the perfect match for your Splendor/XL vanity mirrors! Keep that make up station growing to its full potential!
Real Life Pictures



Measurement
| | |
| --- | --- |
| | |
| Measurements:  |  Width: 33in.  Height 68in.  Depth 3.5in. |
 Real Life Pictures